Data mid-year recruitment update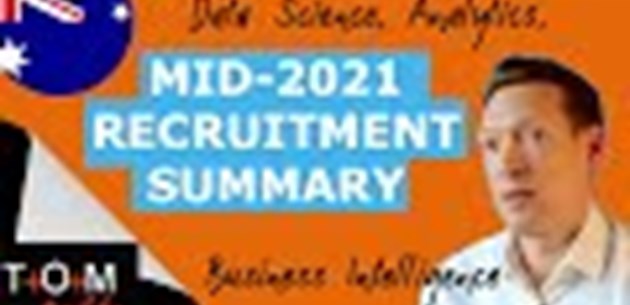 In case you missed the T+O+M Talks video, here's a summary from Jeremy Taylor, T+O+M's Head of Data, Analytics and Technology on recruitment activity in 2021 so far.
Whilst January was quiet on the hiring front, it was the calm before the storm as roles put on hold last year coupled with renewed confidence has seen an increase in demand that is outstripping supply
Demand has noticeably been for Data Governance, Data Risk, Data Engineering and Data Modelling, but there is still plenty happening in remediation programmes, risk and separations off the back of businesses being sold
The royal commission has driven demand in the remediation space and the subsequent demerger of businesses has led to an increased investment in improving data quality and information management in general. In addition there is an increased demand for data & analytics professionals in general as  businesses re-platform and move to the cloud
If you're looking to hire then move quickly and make competitive offers! Due to the border closures, there's a short supply of skilled labour and many candidates have multiple offers on the table. 
The high demand in skills mentioned above is set to continue and the longer the borders remain shut, the shorter the supply will be
If you would like to find out more, get in touch. 
---