Driving the C-suite agenda, welcome to the exciting role of the CF2.O…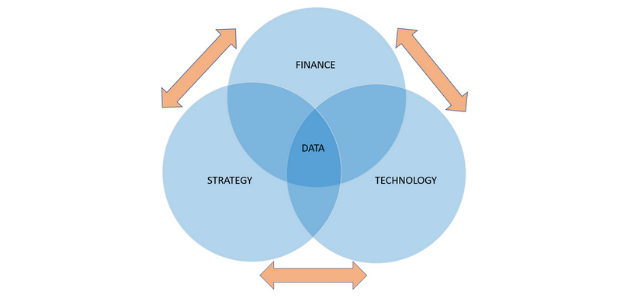 The role of the CFO is changing and changing for the better.
Absolutely front and centre to all conversations and feedback we are having with C-Suite customers, is the merging of Finance, Strategy and Technology, all tied together by enhanced ability to gather and leverage Data. This has also become the theme for the majority of recruitment we do in the CFO office, partnering with our clients to source and engage exceptional talent who will shape the future of the business.
Increasingly, these conversations are supported by quantitative research and global surveys. The facts speak for themselves. Recent global surveys of CFOs, CEOs and Boards confirmed that:
The number of functional areas reporting to CFOs has increased from 4.5 in 2016 to an average of 6.2 today. That includes Corporate Strategy (51%), Enterprise transformation (44%) and Digital (28%).
The CFO is the second-most-common leader, after the CEO, identified as initiating a transformation. Furthermore, 44% of CFO respondents say that the leaders of a transformation, whether it takes place within finance or across the organization, report directly to them—and more than half of all respondents say the CFO has been actively involved in developing transformation strategy.
41% of CFOs spend more time on priorities such as strategic leadership, performance management, policy regulation, stakeholder management, corporate communications, digital technologies like big data and analytics and not just on finance. As a result, an increasing number of promoters want them to lead their companies as CEOs today.
Interestingly, in order to succeed in the above, the key opportunity for CFOs moving forward is believed to be unlocking the power of talent and creating high performing teams….
Respondents who rate their finance organisation as somewhat or very effective are nearly twice as likely as all others to say their CFOs develop top talent organisation-wide (20%, compared with 11% two years ago). Among those reporting a very effective finance function, 38% say so.
The outcome of all of this is…CFOs are well positioned to lead the C-Suite agenda and are having direct impact on and leading, cross functional programs of work involving Strategy, Technology and Data. Equally as regularly, the CFO is charged with ownership of these areas. This obviously requires somehow developing a broader set of new skills, both technical and behavioural, that will enable them to gain trust and inspire and lead/drive their organisation into uncharted territory and the future…welcome to the exciting role of the CF2.O.
If you would like to discuss any of the above, please contact Fergal Gleeson, Head of Accounting and Investment Management, or a member of the Accounting and Finance team